Gran Colegiata Reserva
Sale price Price $826.00 Regular price Unit price / per
Year: 2009
Alcohol: 13.5%
Grape variety: 100% Toro Red (Tinta de Toro)
Production area: Toro origin area (DO Toro)
Wine barrel aging: 18 months American oak barrels
Serving temperature: 15-17°C
Vine age: more than 60 years
Specification: 750ml
Suggested sober time: 30 minutes

Tasting Record
Toro red grapes selected from over 60 years old vines, aged 18 months in American oak barrels. The wine is elegant and complex, which fully demonstrates the traditional charm of the Toro red grape variety. The aromas of cherries, vanilla, black pepper and spices are subtle and long.

*One of the best-selling products in Hong Kong and Macau*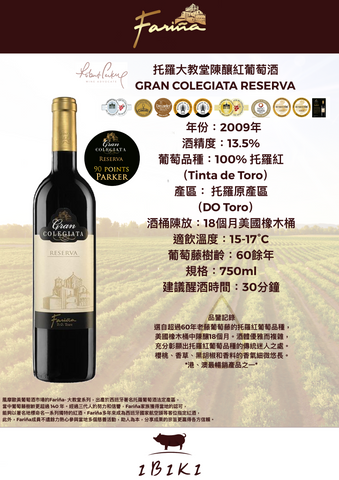 The Fariña-Cathedral series of the European and American wine market is produced in the famous Toro wine production area in Spain, and the vines are more than 140 years old. After three generations of hard work and credibility, the Fariña family has gained local recognition and can name a series of unique red wines after famous landmarks. For many years, Fariña has become the first-class wine designated by Iberia. In addition, Fariña members have participated in a number of local charitable activities. The purpose of helping people and sharing results has won the trust of all parties.