Fariña 75 Aniversario (Limited Edition)
Sale price Price $1,536.00 Regular price Unit price / per
Fariña 75 ANIVERSARIO(LIMITED EDITION)
Year: 2014
Alcohol: 14.5%
Grape variety: 100% Toro Red (Tinta de Toro)
Production area: Toro origin area (DO Toro)
Wine barrel aging: American and French oak barrels over 18 months
Serving temperature: 15-17°C
Vine age: 140 years old
Specification: 750ml
Suggested sober time: 45 minutes or more

Tasting Record
It is harvested from the top Toro red grapes, but aged in oak barrels for more than 18 months. With the years, the essence of the grapes will ferment to a strong fruity aroma. The wine is saturated and easy to eat, suitable for anyone to drink.

*This is a limited production of Fariña Winery Anniversary Edition*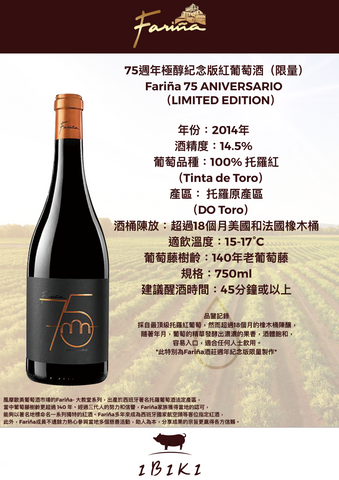 The Fariña-Cathedral series of the European and American wine market is produced in the famous Toro wine production area in Spain, and the vines are more than 140 years old. After three generations of hard work and credibility, the Fariña family has gained local recognition and can name a series of unique red wines after famous landmarks. For many years, Fariña has become the first-class wine designated by Iberia. In addition, Fariña members have participated in a number of local charitable activities. The purpose of helping people and sharing results has won the trust of all parties.